In Briceño coffee connected with the world project, we are developing different actions in each of its 4 components: 1. Strengthening the coffee value chain, 2. Business, technical and technological strengthening of a local-based associative model, 3. Connectivity, and 4. Appropriation of ICTs and development of digital capabilities in the coffee value chain.
In the component of strengthening the coffee value chain, we worked hand in hand with A New Sunrise and Urbania, our strategic trading partners, in the technical support of 155 coffee growers who were visited and characterized. Of these 155, 91 have already started the technical assistance process, with which it is expected to achieve a better use of the coffee harvest. The accompaniment is differentiated, based on the characteristics of the crops of each coffee grower.
Also in this component we articulate with the key players in the coffee business, and we form the Coffee technical group, in which we have the participation of 15 people among coffee growers leaders, strategic allies, the coffee growers cooperative, the municipal mayor's office and 3 associations that are being supported by the project to strengthen them. In this space we will discuss topics of interest related to coffee and we plan it to be a platform to facilitate decision-making.
Regarding associative strengthening, 16 local associations conducted a self-diagnosis and we selected 3 to work on the development of an improvement plan to enhance organizational strengthening: Asdesebri, Cosadi and Mupa. During this accompaniment, they have accessed the Nodo Ká platform and have advanced in the development of the strategic plan and the Marketing plan. They were also validated in the Technology Program for the Social Sector and were eligible for software donations.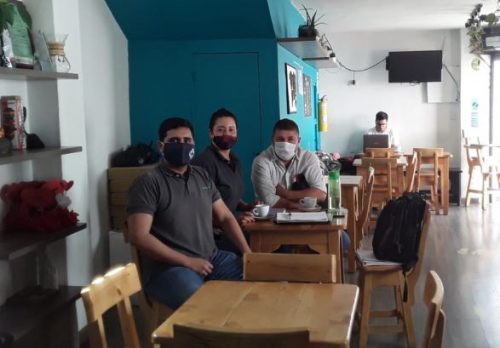 In the connectivity component, we plan to connect 6 rural schools, located in the Briceño – Palmichal corridor, we have made progress in the connection plan and we are preparing to start the installation of the necessary infrastructure by hiring an installation and internet service provider.
Finally, in the ICT Appropriation process, we have trained 135 coffee growers with whom we work in a personalized way to develop the digital skills necessary to know, understand and use technology in their daily lives. The main tool available to coffee growers is the cell phone, so the process has been aimed at exploring the possibilities of using this device as an element to access information, make records, facilitate communication, among others.
Briceño coffee connected with the world, is a project of the Territories of Opportunity program, operated by MAKAIA and Alo & Partners, and supported by A new Sunrise, Urbania Café and the Mayor's Office of Briceño.