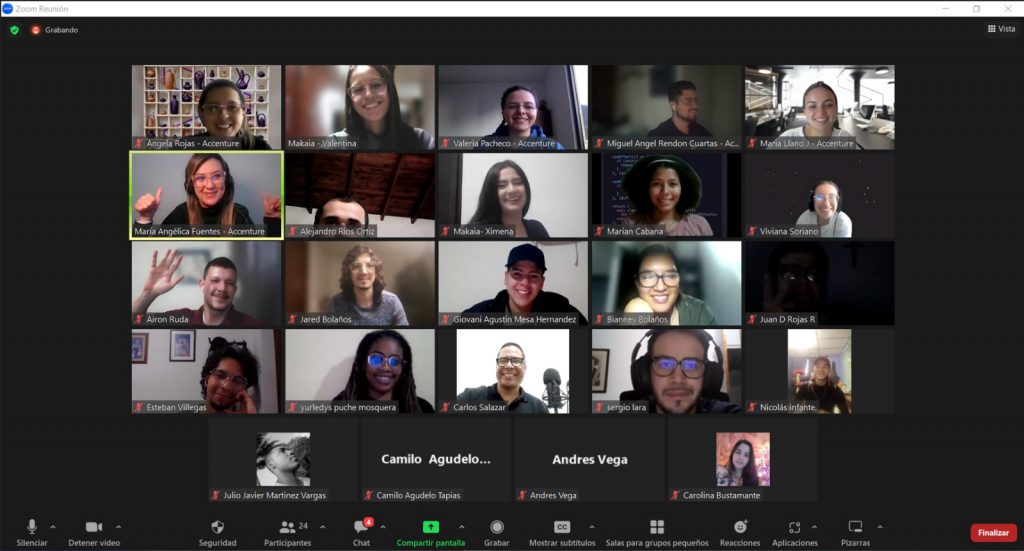 On Wednesday, February 15, our Front 2 campers attended an assessment simulation workshop with Accenture. The training session was designed for our boys and girls to experience a simulation of a very common activity in the work environment for which they are preparing. The development of the strategy was done in 40 minutes and was based on the resolution of a real case, in which their capabilities were evaluated. At the end, some presentations were made and the challenges and results were shared. Accenture will provide feedback of the performance of each one of them to enhance their skills and competencies,  giving them a valuable tool for their future in the work environment. 
Assessments are one of the methods most used by HR professionals when evaluating candidates seeking to fill a vacancy in an organization. It is a series of techniques and exercises that are carried out with the aim of testing the abilities and skills of people to find out if they are suitable for the position.   
However, it is not a tool that can only be used in the selection process. His techniques can also be implemented in internal development processes in companies. 
According to the specialized Psychometric Success portal, these exercises can be defined as 'a method to assess aptitude and performance; applied to a group of participants by trained assessors who use various skills diagnostic processes to obtain information about the candidates' abilities or potential for development. 
Here we present four assessment techniques that can be used. 
Role play 
This is a method in which each person must adopt a role from a specific context. This makes it possible to objectively observe the nature of certain people in an artificial situation. 
Simulation exercises 
This exercise simulates a real life situation that can take place within the organization. Here we seek to evaluate skills such as strategic planning, teamwork, analytical capacity, among other technical skills and abilities. 
 Presentations 
This test consists of giving the participants a topic to be prepared in a certain time so that they can present it to the others. While carrying out this exercise, competencies such as organizational capacity, oral expression, argumentation, knowledge of the subject and emotional intelligence can be evaluated. 
In basket 
In this test, people are given a series of documents or materials that a person usually receives at their job. Applicants are asked to answer these within a time limit in order to demonstrate their abilities to make decisions, manage various situations, solve problems and communicate assertively. 
These exercises make it possible to determine the strengths and areas for improvement in the development processes to help the participants strengthen their skills. 
This workshop is an initiative that stems from the Accenture volunteer program. With our allied companies and these market-trend methodologies, flexible and broad in their evaluation and feedback possibilities, we promote the professional growth of our campers in an integral way. 
Learn more about our Code and Programming Bootcamp. If you want to be part of our FrontEnd or BackEnd Bootcamp, register here. If you are a recruiter or company and you want to know or support our talent, fill in your information here.