Digital transformation model
Digital transformation is the integration of digital technology in all the areas of an organization, fundamentally changing the way to generate value and impact to the beneficiaries. It fosters a deep integration of strategy, people and processes, based on the effective use of technology.
In Alliance with Counterpart, we have developed a model that allows social organizations to understand the level of digital maturity, have the tools to develop a digital strategy based on improving the value proposition and the impact of beneficiaries, make decisions through analysis data and information systematized, be more open to change and continuous learning, agile in its processes, fluid, adaptive, scalable and sustainable.
Below is a brief example of how you can visualize the results of this model:
Digital Transformation level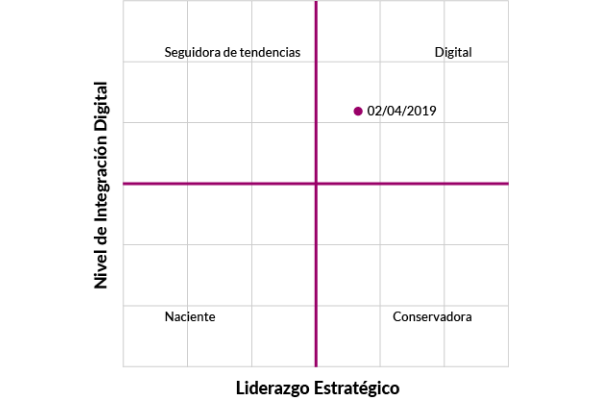 Since 2019, 64 organizations have measured their level of digital maturity in our self-diagnosis model of digital transformation. We have found that the main challenges for the digital transformation of the sector are related with the organizational leadership capacity to create, align and implement their digital strategies, limiting their ability to adapt their missionary and organizational lines to the digital priority.
In the same way, the main challenges of technological appropriation are related with the adaptation of the organizational culture to appropriate new digital models that drive the organization's operations, as well as align its dynamics of projects, operations and programs to new technological tools that facilitate, optimize and energize their social activities.